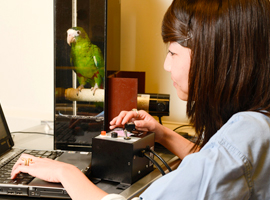 Veterinary Students
Much of the ongoing research being conducted by the CZAR lab can be easily adapted to include a summer project for the right pupil. Students that find themselves working with the CZAR lab gain valuable experience in research, animal handling, communication and teamwork. Research projects performed in our lab commonly study Amazon parrots, cockatiels, quail, and raptors. At times, projects studying reptiles or small mammals may also be available.
Funding is available for summer research on a competitive basis through Students Training in Advanced Research, a program offered by the UC Davis School of Veterinary Medicine. Students from any AVMA accredited veterinary school, students with advanced degrees, and international scholars are encouraged to apply. Please click the provided link for more details.
Applications to the STAR program are accepted on an annual basis, typically due the first week of February. If you are interested in working with our lab through the STAR program, please get in touch with us by the end of November to discuss available projects and to begin preparing your application.